Traveller's Guide: Georgian Britain
Originally published in The Independent on 22nd March, 2014 .

It's 300 years since the Hanoverians swept into town as George I took to the British throne. The Georgian era rainbowed across the reigns of four Georges from 1714-1837 and featured such historical milestones as the American War of Independence, the Napoleonic Wars and the abolition of slavery.
The period is also characterised by a flourishing of the arts and science. The British Museum (020 7323 8299; britishmuseum.org) was founded in 1753, Georgian literary greats penning verse and prose included Romantic poets such as William Wordsworth and Samuel Taylor Coleridge and novelists from Henry Fielding to Jane Austen. The age was also defined by the development of a distinctive architectural style. Names of note include landscape designer Capability Brown and architects John Nash and Robert Adam.
However, the man largely responsible for changing the architectural face of Britain was William Kent (1685-1748), a Yorkshireman who, after 10 years of studying in Rome, returned inspired by the Classical architecture of Vitruvius and the 16th-century Venetian, Andrea Palladio. Kent was to spearhead a revolution in building and landscape design.
Georgian Britain in pictures
"William Kent: Designing Georgian Britain" opens today at the Victoria & Albert Museum in London and runs until 13 July, showcasing Kent's broad portfolio (020 7942 2000; vam.ac.uk). He also turned his hand to interiors, notably Houghton Hall (01485 528569; houghtonhall.com) in Norfolk and the London villa of his patron, Lord Burlington, Chiswick House (020 8995 0508; chgt.org.uk). Kent's first royal commission was to decorate the new State Rooms at Kensington Palace (0844 482 7777; hrp.org.uk).
The new style included grand estates such as Holkham Hall (01328 710227; holkham.co.uk) in Norfolk, one of the best examples of Anglo-Palladian design, and opulent palaces such as the Royal Pavilion in Brighton, a vision of oriental splendour (0300 029 0900; bit.ly/BtnPav). Town planning also got an overhaul; Edinburgh and Bath, with their sweeping crescents and grand squares, are the jewels in the crown.
Bath (visitbath.co.uk), which is celebrating the Georgian tricentenary with a host of events, has no fewer than 5,000 listed buildings including key Georgian attractions such as No 1 Royal Crescent (no1royalcrescent.org.uk) – recently reopened after a £5m restoration. The city also has World Heritage status.
The Scottish capital's architecture is similarly protected by Unesco. In 1766, a competition was announced to transform Edinburgh, until then dominated by its castle and medieval tenements, into the Athens of the North. The winner was James Craig, who visited King George III in 1767 to seek approval for his ordered layout of crescents, leafy boulevards and grand squares. Today, those streets still bear their Georgian names: George, Princes and Queen. Rose Street and Thistle Street link England and Scotland as did the squares, St Andrew and St George (later renamed Charlotte after the Queen), at either end of George Street.
In Charlotte Square, you can see how they lived in The Georgian House (0844 493 2117; nts.org.uk) designed by Robert Adam in 1791 for the chief of the Clan Lamont and now run by the National Trust for Scotland.
Go Scotland Tours (0131 258 3306; goscotlandtours.com) runs a New Town walking tour, "Hidden Georgian Gems," developed with the Edinburgh World Heritage Organisation (each Friday at 11am, April to September; £11), starting in St Andrew Square Gardens.
Capital idea
On 21 May, you can delve into Georgian London on a one-day tour by Art History UK (020 7602 3716; arthistoryuk.com; £78). It starts in the old Foundling Hospital, now a museum, founded by philanthropist Thomas Coram, and sponsored by the artist and satirist William Hogarth and composer George Frederic Handel. It helped save 25,000 children who were either orphans or unwanted. The tour takes in Hanover Square and the church of St George's and Handel's home in Brook Street, where there will be a harpsichord concert.
In vogue
In fashionable Regency society, Bath's 18th-century Assembly Rooms were the place to be seen. Today, part of the complex hosts the Fashion Museum (01225 477789; museumof costume.co.uk; £8) where an exhibition, "Georgians: 18th-century dress for polite society", runs until January next year and showcases the fashions of the day. It features around 30 original outfits alongside a number of 18th-century inspired creations from five top modern British designers including Vivienne Westwood and Alexander McQueen.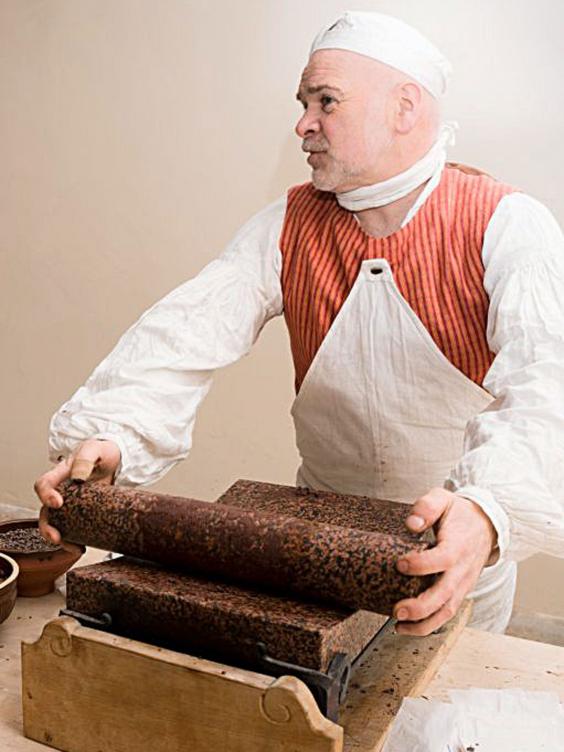 Life was sweet ... if you were the king
To eat like a king, head to Hampton Court Palace (0844 482 7777; hrp.org.uk; £18.20) where there's a recently uncovered 18th-century chocolate kitchen. Here, Thomas Tosier, chocolatier to Georges I and II conjured up delicious creations including steaming hot chocolate for the courtiers.
There are cookery demonstrations throughout the year including Georgian Chocolate Cookery from 18-21 April and Tudor and Georgian cookery, 3-5 May, 7-8 June, 5-6 July, 3-4 August. The demonstrations are included in your ticket.
You can learn more about the period's cuisine in the 18th-century kitchens of George III's retreat down the Thames at Kew Palace (0844 482 7777; hrp.org.uk; £14.50).
To dine amid Georgian splendour, visit The Music Room in Lancaster, a 1730 garden pavilion now home to a handsome tea room (themusicroomcafe.com) and a Landmark Trust rental property (01628 825925; landmarktrust.org.uk; four nights from £201 for two guests).
Upstairs, downstairs
At Shugborough Hall in Staffordshire (0845 459 8900; shugborough.org.uk; £12.50), a working historic estate, you can visit the 18th-century stately home along with its farm, where dairy maids and farm hands show you how to produce butter and cheese. In the Mansion House, you can follow the lady of the house through the dining room, with its grand three-foot-high silver candelabra and the sumptuous red Drawing Room with its spectacular chandelier. Within the 900-acre parkland are eight Georgian monuments including an enormous Neo-Classical arch and Chinese House at the entrance to the island garden.
At Beamish, The Living Museum of the North (0191 370 4000; beamish.org.uk; £17.50) in County Durham, you can explore Pockerley Old Hall, a restored Georgian farmhouse, and take a trip on an old steam train on the Pockerley Wagonway.
There is also a Georgian Country Fair, from 29 May to 1 June, featuring traditional entertainment such as Punch & Judy, a flea circus and traditional music.
What a performance
The Georgians loved theatre. You can go backstaget at Britain's only surviving Regency playhouse in Bury St Edmunds, Suffolk. The Theatre Royal (01284 769505; www.theatre royal.org) is a working theatre that has uncovered a number of lost works from the era and holds periodical performances of these forgotten Regency plays. Tours are offered three times a week (Saturday 11am, Tuesday and Thursday 2pm) between 1 February and 15 May and from 2 September to 15 November; £6, National Trust members free). During the summer, the theatre has an exhibition of its 200-year history. "Backstage Past, Live Encounters" also features some live performances.
Kings Lynn in Norfolk is also celebrating its Georgian heritage this summer and its most renowned Georgian, Charles Burney, the musical historian, organist and father of the novelist Frances Burney. "Georgian Lynn and the Brilliant Burney Family" will be held at the Custom House from 6 June to 31 October (01553 763044; visitwestnorfolk.com). The annual Kings Lynn Festival (01553 764864; kingslynnfestival.org.uk; 13-26 July) will feature classical music concerts, a Georgian masquerade and a Georgian banquet.
Where to stay
One of the most exciting hotel openings this summer will be The Gainsborough Bath Spa (www.thegainsboroughbathspa.co.uk). The hotel , which was originally the Royal United Hospital, spans three historic buildings, each with a Grade-II listed Georgian façade. It will be the first hotel to have direct access to Bath's thermal waters. Doubles will start at £289.
In Cheltenham, which lays claim to be "the most complete Regency town in England", No 131 (01242 822939; no131.com) opened recently in a pristine Georgian house, with bold, contemporary interiors. Doubles from £170, room only.
In Wales, the recently renovated Nanteos Mansion near Aberystwyth (01970 600522; nanteos.com) is a grand Georgian country house with doubles from £180, including breakfast.
Cloister House (01981 550753; vivat-trust.org) in the Scottish Borders, is an elegant Georgian house in the grounds of Melrose Abbey with open fires, a games room and a roll-top bath. Three nights' rental starts at £581 for eight guests and includes welcome hamper.
Or stay in the Georgian House (01628 825925 ; landmarktrust.org.uk; sleeps eight) in the grounds of Hampton Court Palace, built as a kitchen in 1719 for George, Prince of Wales. Four-night breaks from £769.